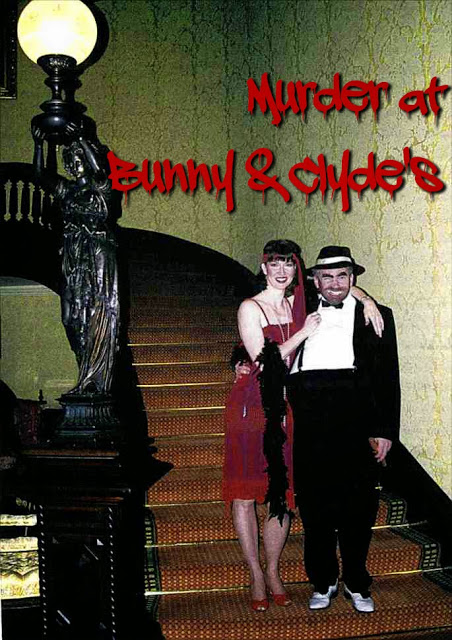 Newsflash: Noted bootleg winemakers Bunny and Clyde have invited their closest friends and enemies to join them for an evening of interactive fun. Rumor has it that Clyde may meet his demise during the course of the evening -- and that the murderer could even be the person sitting beside you! Will the bumbling French detective Jacques La Cop be the first to solve the crime and win a prize - or will you?


Join us for an evening of mystery, fun and fine dining at St. Mary of Victories on Sunday, June 24 starting at 4:30 pm! Following up on last year's hilarious "Murder on the Disoriented Express," we present to you "Murder at Bunny and Clyde's" set in the Roarin' 20's! Enjoy a spectacular dinner with complimentary wine and beer with this hilarious show - and help our historic parish all at the same time!!
Your evening will include appetizers, dinner, wine, and two very special desserts served by our expert wait staff while you are immersed in the mystery presented by famed actor Kevin O'Brien and his troupe of performers! Wine, beer, and soft drinks are included with admission. Tickets are only $50 per person. Parking is secure and well lit.
Our Killer Menu

Appetizers
Salad
Chicken Marsala (Vegetarian Option Available)
Buttered Noodles
Broccoli
Bread and Butter
Dessert: Tiramisu and Moodicc (A Hungarian delicacy - artisan cheese dipped in chocolate)

Complimentary Soft Drinks, Beer and Wine (limited, must be 21).
Those with ADA / Disability needs, please contact us at the Event Line: 314-293-8344. The event coordinator will call you back.

To make reservations, please complete and submit the registration and payment form below.

Registration is Closed. Thank you to all who signed up!

Those paying by check may remit payment to:

St. Mary of Victories Catholic Church
744 South 3rd Street
St. Louis, MO 63102
ATTN: Mystery Dinner